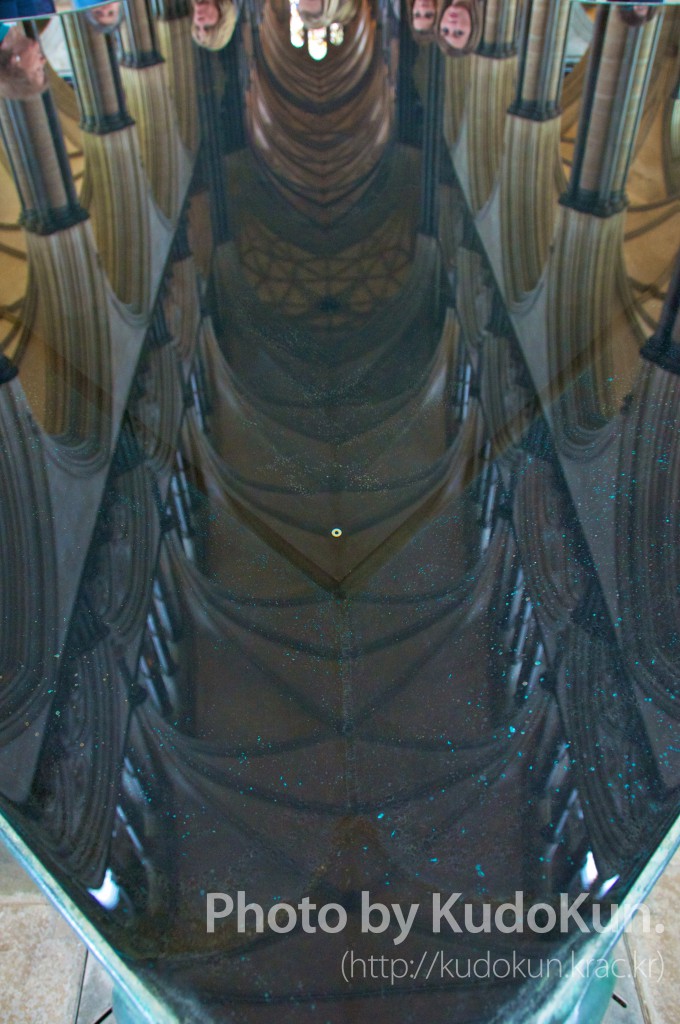 (클릭하면 커진다. Click to enlarge.)
솔즈베리 대성당에 가보면 성수가 담긴(?) 거대한 대야(?)가 있다. (종교지식은 영 꽝이다.)
여기에 있는 성수는 고요함을 유지한다. 뭐, 최소한 누가 물을 건드리지 않는 한엔 말이다.
그리하여 어렵게 물에 완전히 반사되는 대성당의 풍경을 찍을 수 있었다.
사진을 찍으면서, 나는 내 자신을 물을 통해 바라봤다.
늘 거울로 보는 내 모습이지만, 성당에서 고요한 물을 통해 바라보니 또 다르다.
나도 모르게 내 자신을 돌아보고 있다.
In Salisbury Cathedral, there is a giant basin with what appears to be holy water in it.
Water here keeps itself absolutely calm, unless someone touches the water.
I look myself into the water. My reflection is there.
I always look myself in the mirror, but given the setting, it feels a lot different.
I'm looking back  to myself already.
Date: June 6, 2011
Location: Salisbury Cathedral, UK
Camera + Lens: Nikon D300 + AF-S DX Nikkor 18-200mm F3.5-5.6G VR